CS++ Cohort Program
Become part of a supportive learning community and earn your degree
Students in the CS++ program, offered by Cal State Monterey Bay's Computer Science program, take most of their classes together, study together, and receive significant additional support including enrichment sessions, tutoring, project work, and guidance to apply for competitive internship experiences. They are eligible for a need-based scholarship of up to $10K.
CS++ students outpace the national averages for graduation and employment rates.
Of students graduate in 4 years
of students to do an internship
of graduates employed in industry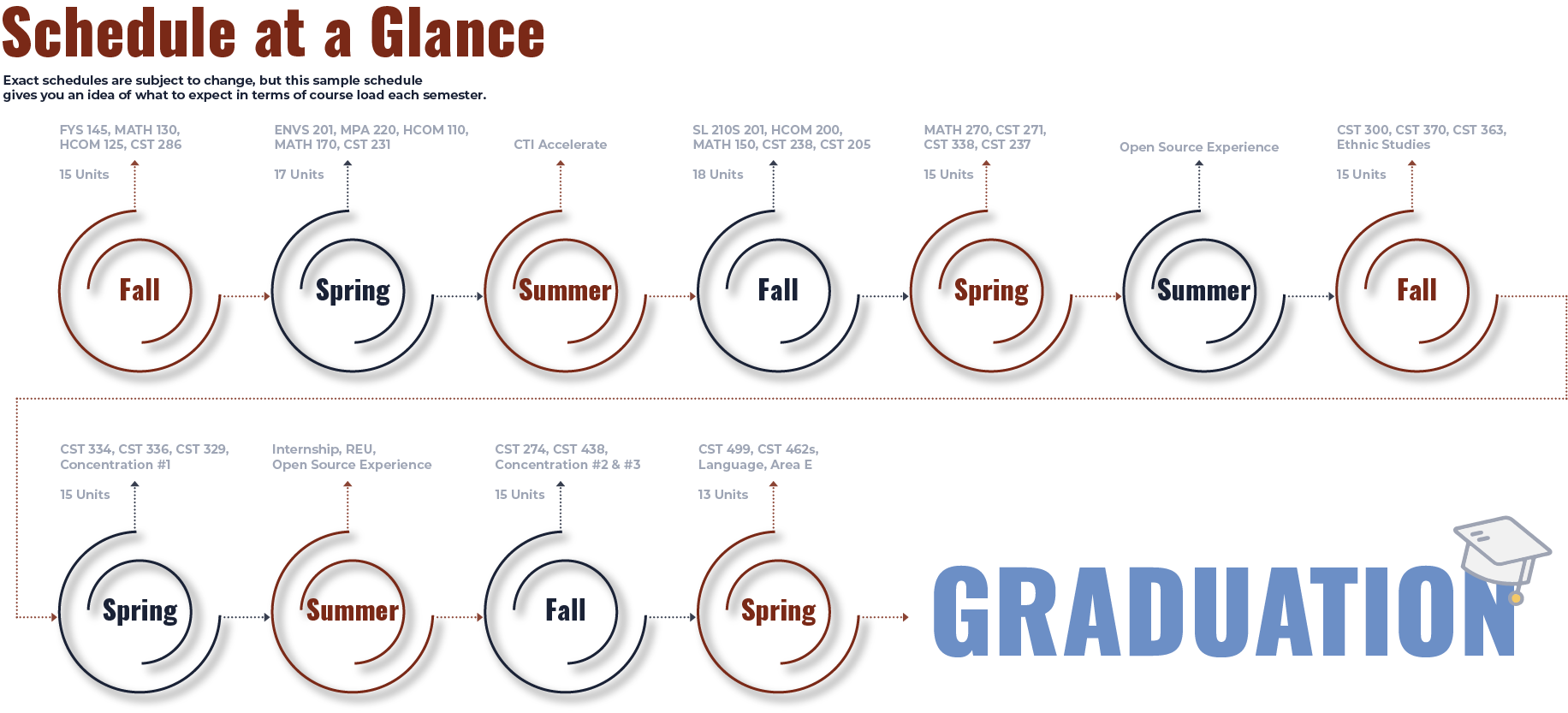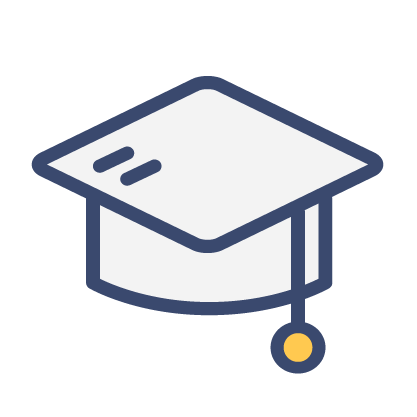 Since 2016, one hundred sixty-seven students have graduated.
Of those:
graduates identify as underrepresented minorities
graduates are first generation college students
Benefits and Student Expectations
If you become part of the CS++ learning community, you…
Commit to:
Benefit from:

Following the prescribed course pathway
Participating in enrichment activities averaging 3-5 hours/week
Being a proactive, supportive member of the cohort community
Maintaining a minimum 2.5 GPA with a 'C' or better in all courses

Graduating and starting your career on time
Early course registration that guarantees pathway courses
A need-based scholarship totaling up to $10K over 4 years
Career and internship preparation assistance through workshops, industry networking opportunities, and even internship placements
Eligibility
CS++ is open to any student who will be an incoming freshman at CSUMB in the fall and who is majoring in computer science. You will start CS++ the summer prior to your first semester at CSUMB. To be eligible for CS++, you must:
1. Apply to and be admitted to CSUMB

You will go through the admissions processes for both CS++ and CSUMB at the same time. Once you've applied to CSUMB, you can apply to CS++. CS++ will be offering conditional acceptance to qualified candidates throughout the spring. Please note that if you are accepted to CS++ prior to being admitted to CSUMB, this acceptance is conditional and will be contingent upon you being admitted to and confirming enrollment at CSUMB.
2. Be ready to take pre-calculus (MATH 130) and college-level English (HCOM 211) your first semester at CSUMB
If you are not math and/or English-ready or are not sure, you can still apply and we will work with you to determine the best path forward.
Prior knowledge of computer science (programming, coding, etc.) is not required.
Application/Admissions Process
1. Apply to and be admitted to CSUMB
Apply to CSUMB through CalState Apply. Follow the standard CSUMB admissions process to be admitted for fall.
2. Complete the CS++ application form
Apply to CS++ via the CS++ online application. Be sure to have these materials available to assist you in completing your application:
AP test credits
Most recent unofficial transcripts
A letter of recommendation
Personal statement – In 1000 words or less, please answer one of the following writing prompts:

Prompt 1: What is your interest in computer science and why do you feel you will succeed in the CS+ program?
Prompt 2: Tell us about a personal quality, talent, accomplishment, contribution or experience that has made a profound impact in your life. How has that helped shape you into the person you are today?
3. Participate in a group interview for admission with CS++ staff and faculty. Students who meet eligibility requirements and have successfully completed steps 1 and 2 will be invited to attend a mandatory group interview session where they will meet with CS++ staff and other prospective cohort-mates. During this session students will learn more about the program and have an opportunity to ask questions about the program. Students will be invited to interview in the order that completed applications are received.
Applications to CS++ are reviewed starting in January and students who meet minimum qualifications will be invited to one of the group interview dates in spring. Offers of acceptance will be extended on a rolling basis until the cohort is full. All CS++ acceptance offers are conditional until the student is admitted and confirms enrollment at CSUMB.
Key Dates
| Date | Activity/Item | CSUMB or CS++ |
| --- | --- | --- |
| October – November | CSUMB application window is open | CSUMB |
| October 1 | CS++ online application opens | CS++ |
| January – May | Group video interviews for CS++ | CS++ |
| March – April | Notification of admission to CSUMB | CSUMB |
| April 30 | Priority deadline for CS++ applications | CS++ |
| May 1 | Deadline to confirm enrollment at CSUMB | CSUMB |
| May 20, 2024 | Final date to apply to CS++ | CS++ |
| May 31, 2024 | Final notifications of acceptance to CS++ | CS++ |
| June – August | Bridge Experience for Computer Science (BECS) | CS++ |
Bridge Experience for Computer Science (BECS)
CS++ kicks off with an hybrid summer bridge experience aimed at building a strong cohort community, introducing you to Computer Science, and laying the foundation for habits and strategies that will ensure your success in the first year of college. During summer bridge, you will have the opportunity to interact with engineers and our alums at some of our industry partners, which may include Amazon, Apple, DoorDash, Google, Lyft, Quizlet, Slack, Salesforce, Uber, VMWare, etc.
More details about the BECS workshop will be communicated during and after the interview.
Scholarship
Because of the increased time commitment and expectation that CS++ students will go above and beyond in their academic pursuits, students accepted into CS++ are eligible for a scholarship. This is a need-based scholarship (available to students who have unmet financial need according to FAFSA) of up to $10K total over 5 semesters. The scholarship is distributed as a maximum of $2K per semester starting the first semester in the program. As long as students maintain good standing with CS++, they remain eligible for this scholarship.
Contact Us
If you are not yet ready to apply, but would like to be added to our contact list, please complete this
interest form.
This is the best way to get you on our radar so that we can reach out with information about upcoming info sessions, application deadlines, etc.
If you have any questions, please write to CS@csumb.edu.